"Moments of Noise" - liner notes by Paul Compton
It is my absolute pleasure to provide an introduction to Moments of Noise, the debut recording of the Robert Bachner Big Band. I have grown to know Robert over the last few years in the most pure way possible—entirely through his music. When I first listened to his debut quintet CD, Heart Disc, I had never met him, and I had never heard him play. Everything was brand new to me, and I became an instant fan! Robert's trombone playing and writing captured my attention immediately, and when the disc was done, I wanted to hear more. It is clear I am not the only one, as both Heart Disc and its follow-up Travelling Hard, have received considerable attention. The quality of Robert's artistry was firmly acknowledged when Travelling Hard earned the Austrian Hans Koller Prize for best Jazz CD of 2006.
Moments of Noise has all the same qualities I loved about Robert's previous recordings. There is incredible energy, communication, excitement, variety and originality. Every section in the band is balanced and tight, and there are plenty of excellent soloists. Robert has assembled an impressive collection of players, each performing with tremendous nuance, soul and attention to detail. This band is as convincing as any I have ever heard. It is obvious the band loves playing Robert's music, as every note is played with absolute heart and respect. Everything about this recording is sincere and real, and that makes it an absolute enjoyable listening experience.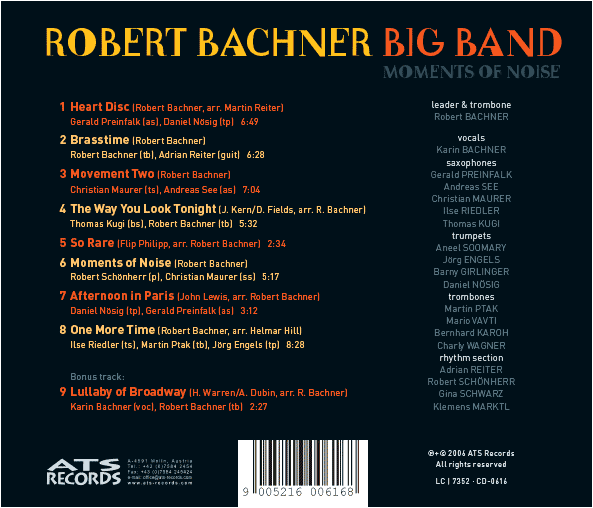 Although Robert plays some excellent trombone solos on this recording, particularly on the "Way You Look Tonight", which demonstrates both beautiful lyrical playing and burning double time, this is primarily a showcase for his composing and arranging. Robert has a natural sense for orchestration and melody, and an adventurous harmonic palette. His arrangements of standards have so much personality that these old favorites become new again, and his original compositions are truly his own. Although it is really difficult to pick favorites, I would have to say that the grooving "Movement Two" and hauntingly beautiful "So Rare" are at the top of my list.
The Robert Bachner Big Band has arrived! Moments of Noise is a perfect blend of cutting-edge originality and respect for tradition. I applaud Robert for his dedication and vision, and I can't wait to hear what is next. He truly is an artist, taking on the great responsibility of being a bandleader, composer, performer and creator. Robert is creating new music and new opportunities, and the impact is tremendous. I hope everyone enjoys this CD as much as I do. Congratulations Robert!
Paul Compton
Assistant Professor of Trombone, Oklahoma State University