Breaking news: My latest CD "Ein feiner Zug" together with Austrian pianist and composer Helmar Hill is out now! It contains a great, new concerto for trombone and piano by Helmar Hill called "Ein feiner Zug". It is a 3 movement concerto (about 20 minutes) and has a classical structure, but also provides solos sections, both for trombone and piano. Order sheet music directly from Helmar or get this CD in the Apple iTunes Store. This CD was now also chosen "Favorite CD of the month" on www.jazzinaustria.at. Please also note my NEW GUESTBOOK!


Get this CD in the EU at ATS Records

Get it in the US at CD Baby



Order my CDs at ATS-Records

Get all my CDs in the US at CD Baby

My CDs at Amazon.de / US Store



All my recordings are available online in the Apple iTunes Music Store. Download the free iTunes software and install it on your Mac or PC. In the iTunes Store simply search for "Bachner." Also check out my little Free Downloads Server, where you i.e. can download all lead sheets from "Travelling Hard" as pdf files.
December 2007

First I would like to say hello to all readers of mac-essentials.de, nice to have you on board. On December 1st & 2nd I will play 2 concerts for the UEFA EURO 2008 in Luzern with the VAO and I am excited in which group the Austrian soccer team will end up. On 7th I will again have to travel, this time to Oulu/Finland, to play there with Heavy Tuba. On 14th it will be my pleasure to play with Gina Schwarz (the bass player of my big band and of my Frank Rosolino quintet) at the "Hans Koller Prize" ceremony (the "Austrian Jazz Grammy") where she will be awarded "Side(wo)man of the Year 2007."

The end of this year is slowly approaching and I will be quite busy at the turn of this year. On 27th I will play with Georg Breinschmid´s Mingus Band at the Spielboden in Dornbin and then there are another 5 Strauss concerts ahead for me with the VAO in Holland and Austria. I am really looking forward to 2008, when I won´t have to travel that much as this year, and when I will be able to focus more on composing and practicing again. There is also new VAO CD called "All that Strauss Vol. 2" out now, which is available in the complete new VAO Online Shop.
Here some more VAO & RBBB YouTube uploads. Have fun! And finally, here my new GUESTBOOK!!!!
July 2007
I am still touring around a lot, so meanwhile maybe watch the following RBBB live videos from the Porgy & Bess club here in Vienna, recorded in february 7th 2007: "If I should lose you," "Die Ursache, eine Differenzierung," "Greetings from Bob" by Helmar Hill, "The Way You Look Tonight," "Crucial Qualities" and our 2006 CD recordings. Have fun and enjoy the music!
June 2007
We really had a great "Best of Stageband" concert at the Porgy & Bess on 14th featuring Karin Bachner and the Velvet Voices. On this evening we did a live DVD recording with 5 HD (!) cameras and thus you can expect some stunning video. This concert DVD should be released around the end of this year.
I also now finished the mixing for our new duo CD "Ein feiner Zug" together with great pianist and composer Helmar Hill. This very unique recording will be released in August. On 15th and 16th I played two very nice gigs with my special "Frank Rosolino Band" in Linz at a wonderful new club called Count Davis, the best place for jazz in Linz now! End of this month there are some more gigs ahead for me with the VAO & LBB.
OT: while waiting for the iPhone to come to Europe, maybe check out the new Opera Mini browser for your cell phone.
May 2007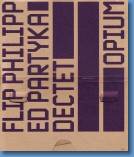 At the moment I am again very busy touring with the Vienna Art Orchestra. If you are interested in some more details then read (and watch) the VAO Tour Diary. And of course, come to the concert of my big band on 23rd at the Porgy & Bess when we will do an exciting evening with great original charts of the Buddy Rich Big Band. The fabulous Flip Philipp & Ed Partyka Dectet has also it´s second CD out now called "Opium" on which I also play and contributed an arrangement. Go to Flip´s website for more information and audiofiles.
Here a nice video with the Vienna Art Orchestra at the North Sea Jazz Festival 2002 in The Hague, Holland. Also check out the new VAO Account on YouTube!
April 2007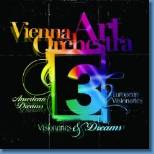 While last year I finally managed to concentrate more on small group playing (and obviously I was quite successful with it ;-) this year will be a strong "big band year" for me again. I will be on the road with the Vienna Art Orchestra for several months, celebrating the 30th birthday of this exceptional orchestra. Checkout the newest VAO release "3" (3 CD box) which already sold 2000 units in the first two weeks only! Listen to some tracks here, (scroll down...) win free tickets for the May concerts in Vienna @ Gasometer or purchase some tickets here: American Dreams (7th), European Visionaries (8th) & Visionaries & Dreams (9th). Anyway, I strongly recommend the "3 day pass" (austriaticket & öticket) to get the ultimate VAO experience.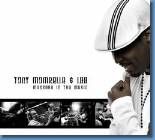 On 11th we already performed a special programme called "European Composers" with my own Big Band at the Porgy & Bess (in our monthly stage band series there) presenting the wonderful music of Antti Rissanen, Kenny Wheeler, Herbert Berger & Helmar Hill. It was a great evening and we are already looking forward to May 23th, when we will celebrate the music of the Buddy Rich Big Band there. Also out now: the latest CD "Message in the music" by the Lungau Big Band, featuring the amazing british singer Tony Momrelle. It is a great album with new and fresh soul arrangements. Please visit the LBB Homepage for the next live dates.
"Off topic:" besuchen Sie auch die neue, wunderbare "Vital-Lounge" meiner Schwester Astrid Zimanyi.
March 2007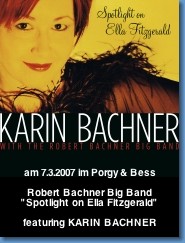 This months highlight of course is our big band concert on 7th at the Porgy & Bess, the 3rd gig in our "Stage Band" series there, and we will play a wonderful programme called "Spotlight on Ella Fitzgerald" featuring Karin Bachner. We will perform some very rare arrangements which Ella recorderd on her famous "Songbook Recordings", with great charts by Nelson Riddle, Quincy Jones, Frank Devol and many others.

Download our recordings of these great songs in iTunes.
Mid of march there is a tour with the Upper Austrian Jazz Orchestra featuring Michael Gibbs and his very nice and interesting arrangements of the famous Glenn Miller big band charts. I will also play the session opener on 9th, again at the Porgy, with Gina Schwarz and I will play another gig on 25th with the "Würzburg Jazz Orchestra" in Würzburg. If you are looking for some embochure help, head over to Sam Burtis´ website and also check out his great forum for advice (ie. 1, 2, 3, 4, 5) He is really one the very few guys, who knows & tells helpful things!
February 2007

As usual, for me February is a month with not so many jazz gigs ahead. After a lot of playing and organizing I am finally able to focus more on practising and writing again. Beginning of this month I already had the pleasure to record for a new, wonderful album by Madita. The style of this recording is "vocal, electronica, jazz" and I am sure you will love it. The CD presentation and a live DVD recording is planned for April at the Birdland here in Vienna - watch our for that! And I already played my annual dancing gig, this time with Gerhard Aflenzer´s very nice Broadway Big Band.

We also had another concert (and some nice fun) at the Porgy & Bess on 7th with the music of our new big band CD Moments of Noise. And we already have some new big band stuff for you! During the recording session for "Moments of Noise" we also recorded a promotion demo of our "Ella Fitzgerald Special", and finally we liked those recordings that much, that we decided to also release them exclusively in iTunes. Voila, please click the following link to hear and download "Spotlight on Ella Fitzgerald" featuring Karin Bachner. It´s a 5 track album for only €3,96 or (US $3,99) - you won´t even get a pack of cigarettes for that ;-)
January 2007

The last year was a very busy and successful one for me. I got two new CDs out in 2006 and a third one is already recorded (Duo with Helmar Hill) which will be released soon. The absolute highlight of course was winning the Hans Koller Prize (the Austrian Jazz Grammy) for my latest quintet CD "Travelling Hard." Well, since I actually never really planned to be a professional musician, I also never expected to someday get a prize like this. So, I am really happy about all that happend musically in the last few years ­ and I am also quite surprised myself ;-)
The highlight of this month of course is the CD presentation concert of my new Big Band CD "Moments of Noise" on 15th at the Porgy & Bess here in Vienna. The concert starts at 8 pm and we will play the music of our brand new CD, and also some other new stuff for you. We will also be the "Stage Band" at the Porgy for the next 6 months, presenting several different programs there. For more information and the next dates please also have a look at the concerts page. Just in case you like trombones, then you have to come to the Jazzland on 18th this month at 9 pm to hear me with the fabulous Ed Paryka Trombone Choir.